Wood Bioenergy Conference & Expo
April 5-6, 2016
Omni Hotel at CNN Center in Atlanta, GA
The Educational Event for the Wood Bioenergy Industry, Including Wood Pellets, Biomass Power, Biofuels, In-Woods Chipping, Raw Material Procurement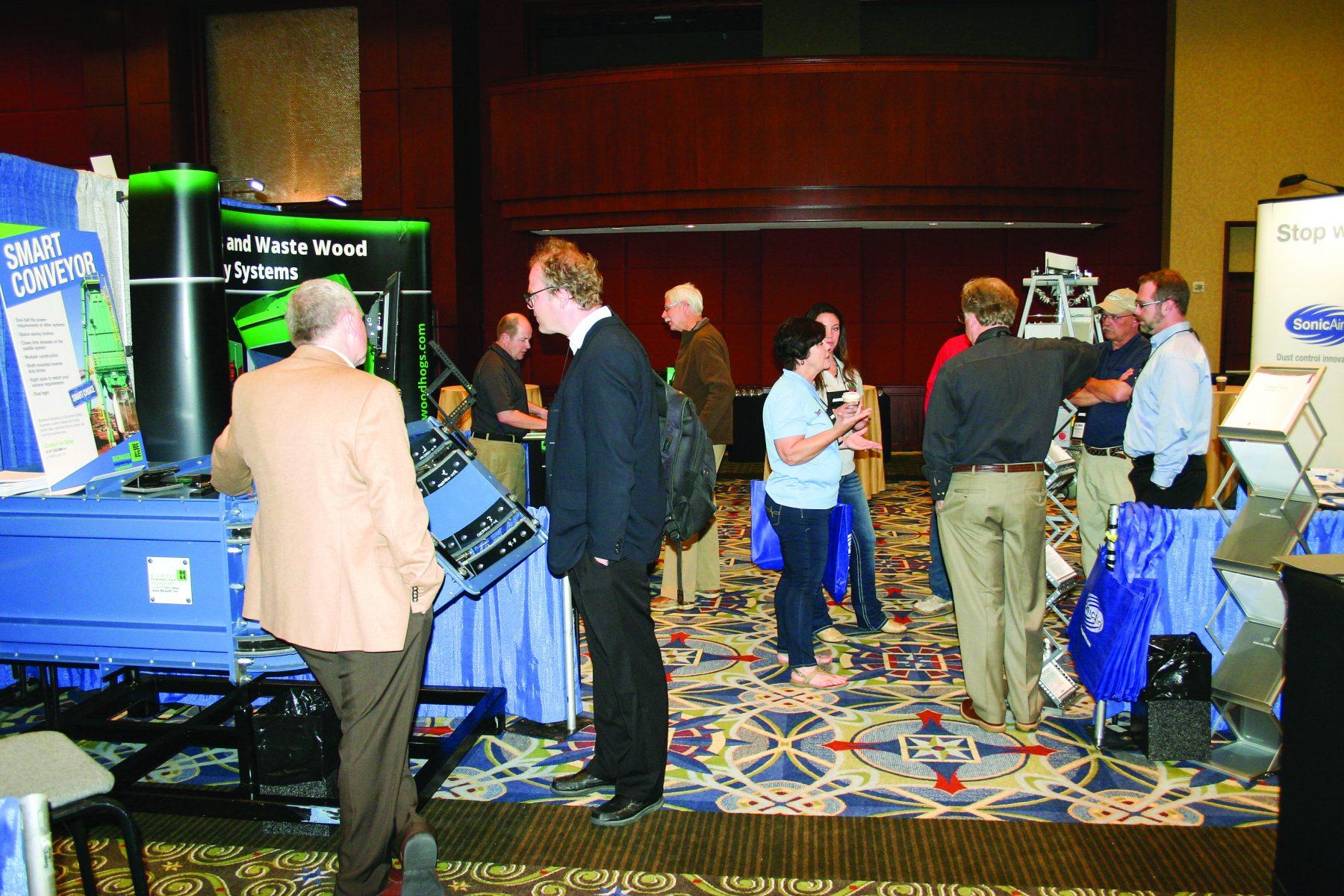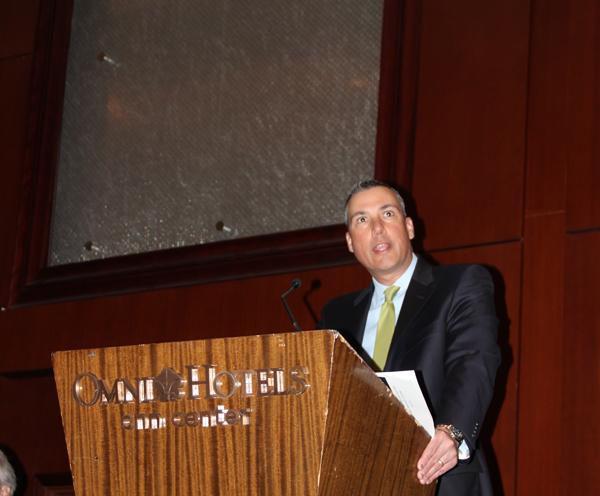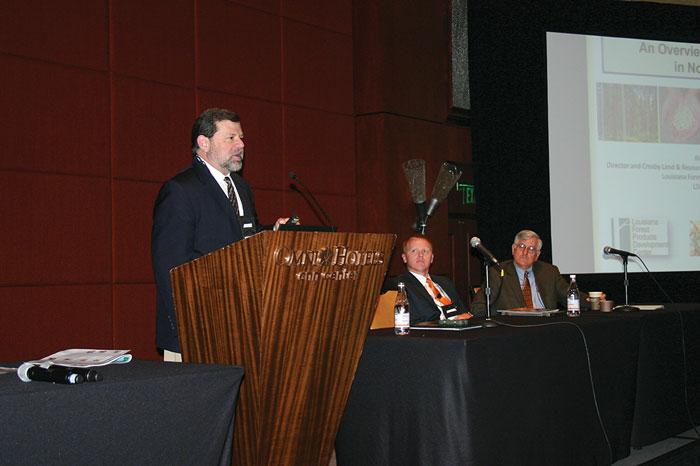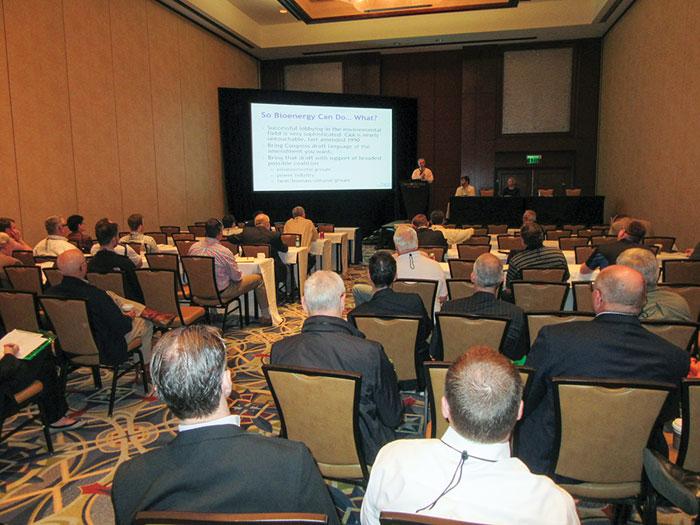 Conference Extraordinaire
Leadership from Enviva and Drax—perhaps the two most visible wood pellet production and biomass power generation companies in the world—spoke of continued renewable wood energy growth during the fourth Wood Bioenergy Conference & Expo held April 5-6 at the Omni Hotel at CNN Center.
The event, hosted by Wood Bioenergy magazine and Georgia Research Institute, attracted 320 industry personnel representing industrial wood pellets, biomass power generation, in-woods chipping and biomass fiber procurement. They heard nearly 40 speakers and experienced 70 equipment and technology exhibits in the Grand Ballroom North.
Enviva President and CEO John Keppler expressed dismay with those who are less than enthusiastic about the wood pellet industry. He nearly shouted to the keynote session attendance that wood pellet demand worldwide increased 13% in 2015 to 27.6 million metric tons. "Thirteen percent year-on-year growth!" Keppler said. "How many industries in the world have grown 13% year-on-year?" He said wood pellets produce about 4% of all electricity in the United Kingdom, which is where much of U.S. wood pellet production is exported, and pointed to the substantial growth of biomass power generation, adding that wood biomass accounts for 44% of all renewable energy in the EU.
Keppler said the continued growth depends on three factors: sustainability, affordability and adaptability.
While protesters chanted outside, Enviva President and CEO John Keppler challenged his audience inside to celebrate the accomplishments of the young renewable wood energy industry, especially its substantial year-to-year growth. Keppler was one of the keynote speakers...
The BIO 2016 Show program can be viewed here.
TUESDAY, APRIL 5
MORNING KEYNOTERS SESSION
(Rooms B-C)
8:30-8:35 a.m.
Welcoming Remarks and Keynoters Introduction
—Rich Donnell, Conference Co-Chairman, Editor-in-Chief, Wood Bioenergy
8:40-9:00 a.m.
European Pellet Markets: Where to Now?
—Dr. Cormac O'Carroll, Director, London Office, Pöyry Management Consulting
9:05-9:25 a.m.
Bending the Curve: Wood Pellets and the Future of Energy
—John Keppler, President and CEO, Enviva Family of Companies
9:30-9:50 a.m.
Expanding the Forest Sector Tent: The Role of Wood-to-Energy
—Carlton Owen, President & CEO, U.S. Endowment for Forestry and Communities
CONCURRENT SESSIONS
(Rooms A-B-C)
PRODUCTS & TECHNOLOGIES
PART I
(Room A)
10:35-10:55 a.m.
The Current Status and Future Challenges of Torrefaction Technology
—Andrew Johnson, Vice President, TSI
11:00-11:20 a.m.
Second Generation Solid Biofuels and Steam Explosion
—Ryan Davis, Technical Manager, Zilkha Biomass Energy
11:25-11:45 a.m.
Why Gasify, When You Could Pyrolyse?
—Russell Burnett, Director and CTO, Applied Gaia Corp.
PROJECTS & OPERATION
(Room B)
10:35-10:55 a.m.
High Volume Pellet Projects: Through a Drone's Eyes
—Desmond Smith, Manager, West Coast Office, USA, BRUKS
11:00-11:20 a.m.
Value Creation Through Engineering
—Jeff Stephens, Senior Project Manager & V.P., Mid-South Engineering
11:25-11:45 a.m.
Emerging Trends in Technology Solutions for Improving Operational Performance
—Bijan Shams, President, Cogent Industrial Technologies
CHIP CHIP HOORAY!
FROM THE WOODS TO THE WOOD YARD
Part I
(Room C)
10:35-10:55 a.m.
Customizing Your Procurement to the Resource
—Rusty Booker, Vice President-Fiber Procurement, Drax Biomass
11:00-11:20 a.m.
Getting into Fuelwood Chipping
—Deck Trevitt, Principal, Woodland Improvements
11:25-11:45 a.m.
Increasing the Market for Your Wood Fuel Product by Producing a Quality Product, While Maximizing the Efficiency of Your Wood Fuel Harvesting Operation
—Jerry Morey, President, Bandit Industries
11:50-12:10 p.m.
Optimize Your Worksite Efficiencies With A Tipper
—Joseph Canova, Vice President – Global Sales, Columbia Industries, LLC
AFTERNOON KEYNOTERS SESSION
(Rooms B-C)
1:35-1:40 p.m.
Remarks and Introductions
—Dan Shell, Managing Editor, Wood Bioenergy magazine
1:45-2:05 p.m.
Poised for Growth: New Opportunities in the Biomass Energy Sector
—Pete Madden, President and CEO, Drax Biomass
2:10-2:30 p.m.
Coal Replacement with Biomass: How Ontario Displaced Coal and Created New Supply Chains to Reinvigorate the Forestry Sector
—Brent Boyko, Senior Manager Business Development, Ontario Power Generation
CONCURRENT SESSIONS
(Rooms A-B-C)
PRODUCTS & TECHNOLOGIES
Part II
(Room A)
3:05-3:25 p.m.
Biocoal Production with CarbonFX Technology: A First Commercial Plant
—Sylvain Bertrand, Directeur General/CEO, AIREX Énergie Inc.
3:30-3:50 p.m.
A 1st and 2nd Generation Combined White Wood Pellet and Torrefied Wood Production Facility in Canada
—Jerry Ericsson, President, DIACARBON Energy Inc.
DUST CONTROL & SAFETY
(Room B)
3:05-3:25 p.m.
Dust Collection Design and Maintenance
—Ben Kice, System Designer and South East Regional Sales Manager, Kice Industries, Inc.
3:30-3:50 p.m.
How to Reduce Risks of Combustible Dust: New Standards, New Technologies
—Jordan Newton, Vice President of Engineering, SonicAire/IES
3:55-4:15 p.m.
Prevention of Fires and Dust Explosions within the Biomass/Pellet Industry
—Mikael Jidenius, Area Sales Manager, North America, Firefly AB
4:20-4:40 p.m.
Proven Fire Protection Systems for the Wood Bioenergy Industry
—Jeff Nichols, Managing Partner, Industrial Fire Prevention
CHIP CHIP HOORAY!
FROM THE WOODS TO THE WOOD YARD
Part II
(Room C)
3:05-3:25 p.m.
Creating New Opportunities for Product Diversification and Growth in the Forestry Industry
—Michael Stanton, Regional Sales Manager, Morbark, Inc.
3:30-3:50 p.m.
Generating a Raw Material Supply for a New Wood Pellet Plant
—Keith Middleton, Procurement Manager, Fram Renewable Fuels, L.L.C.
3:55-4:15 p.m.
Logging Growth with Renewable Energy
—Stephen Tucker, Principal, Tidewater Land and Timber
4:20-4:40 p.m.
Mobile Chippers for Energy & Micro-Chips
—René van der Merwe, Sales Manager North America, Bruks
WEDNESDAY, APRIL 6
MORNING KEYNOTERS SESSION
(Rooms B-C)
8:30-8:35 a.m.
Welcoming Remarks and Keynoters Introduction
—Fred Kurpiel, Conference Co-Chairman
8:40-9:00 a.m.
Wood-Based Bioenergy: An Update for North America
—Dr. Richard Vlosky, Director, Louisiana Forest Products Development Center
9:05-9:25 a.m.
Biomass Power in Arizona: Novo Power and the Future
—Brad Worsley, President/CEO, Novo Power
9:30-9:50 a.m.
From the Forest Floor to Electric Energy
—Norman Johnson, Manager Operations and Maintenance for the Contract Managed Assets, Dominion Virginia Power
CONCURRENT SESSIONS
(Rooms A-B-C)
DRYING & HANDLING TECHNOLOGIES
(Room A)
10:35-10:55 a.m.
Drying Performance with Wet Fuel Combustion
—Tyler Player, Principal, Player Design, Inc.
11:00-11:20 a.m.
Total Solution Moisture Control for a Wood Pellet Mill
—John Robinson, Principal; Roger Douglas, Director of Engineering; Drying Technology, Inc.
11:25-11:45 a.m.
Proper Engineering and the Choice of Material Handling Machinery
—Dane Floyd, President, Biomass Engineering and Equipment
EPA & BIOMASS
(Room B)
10:35-10:55 a.m.
From the Tailoring Rule to State Implementation Plans: The EPA's Evolving Position on Biomass
—Carrie Annand, Vice President of External Affairs, Biomass Power Association
11:00-11:20 a.m.
Long-Term Forecast for Bioenergy Demand—US EPA's Recent Curve Ball and How to React
—Wes Younger, Managing Consultant, Trinity Consultants
AIR EMISSIONS CONTROL
(Room C)
10:35-10:55 a.m.
Dual-Biophase Bio-Oxidation—A Green, Energy-Efficient Approach to VOC and HAP Emission Destruction
—Nathan Hess, Applications Engineer, Process Combustion Corp.
11:00-11:20 a.m.
Reducing RTO Annual Fuel Costs with Fine-Tuning Features
—Rodney Pennington, VP of Key Accounts, NESTEC, Inc.
11:25-11:45 a.m.
Meeting EPA Emission Standards with Cyclones
—Mike Clark, PE, Regional Sales Manager, Fisher-Klosterman Emtrol
Sign Up To Receive The Latest Updates