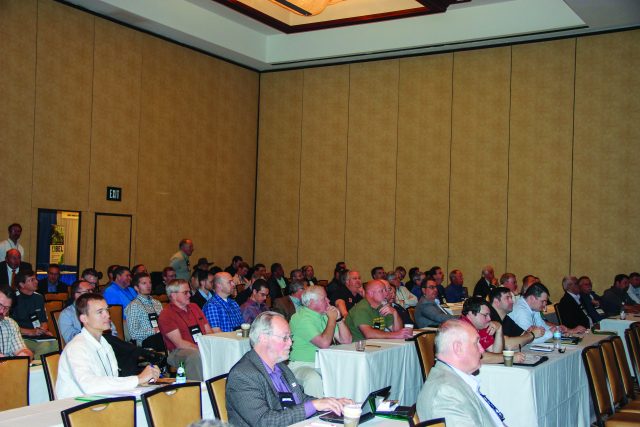 Organizers have announced that the fifth Wood Bioenergy Conference & Expo will be held Wednesday-Thursday, April 11-12, 2018, and once again in the Grand Ballroom North of the Omni Hotel at CNN Center in Atlanta, Georgia, USA.
Wood Bioenergy Conference & Expo again immediately precedes the Panel & Engineered Lumber International Conference & Expo (PELICE), which will be held April 13-14, 2018, also in the Grand Ballroom North. Both events are supported by Wood Bioenergy and Panel World magazines, and Georgia Research Institute.
The 2016 Wood Bioenergy Conference & Expo attracted 320 industry professionals from the industrial wood pellet, heating wood pellet, biomass power, biofuels and in-woods chipping sectors. More than 40 speakers, including leadership from the major producer companies, addressed project startups, market forecasts, international supply chain and production technologies. The event was supported by 70 equipment and technology exhibitors, of which 37 exhibited in both the Wood Bioenergy and PELICE events.
Most forecasts point to 2018 as the beginning of a resurgence in the wood bioenergy industry. For example, several new industrial wood pellet plants, which started up in 2017, will be moving into full production mode just as international market demand beckons for additional supply.
Meanwhile, biomass power plants continue to start up around the world as more countries integrate biomass power into their electricity infrastructure. And of course it all begins in the woods, which is why the Wood Bioenergy Conference & Expo will once again include its Chip Chip Hooray! series of presentations.
Such momentum generates great anticipation for the 2018 Wood Bioenergy Conference & Expo. Once again, Gold, Silver and Bronze exhibitor sponsorship packages will be offered.
For exhibitor sponsorship information, contact Fred Kurpiel, fredkurpiel@aol.com; 678-642-1238.
To submit a presentation idea, contact Rich Donnell, rich@hattonbrown.com; 334-834-1170.