Wood Bioenergy Conference & Expo
April 11-12, 2018
Omni Hotel at CNN Center in Atlanta, GA
The Educational Event for the Wood Bioenergy Industry, Including Wood Pellets, Biomass Power, Biofuels, In-Woods Chipping, Raw Material Procurement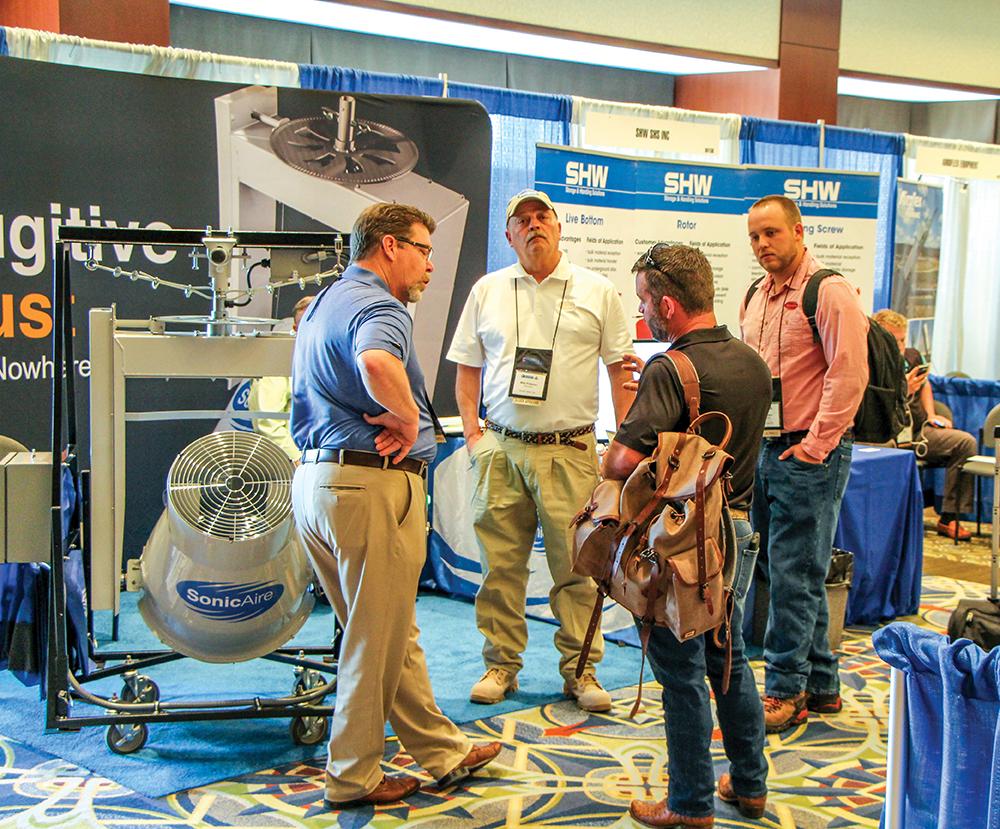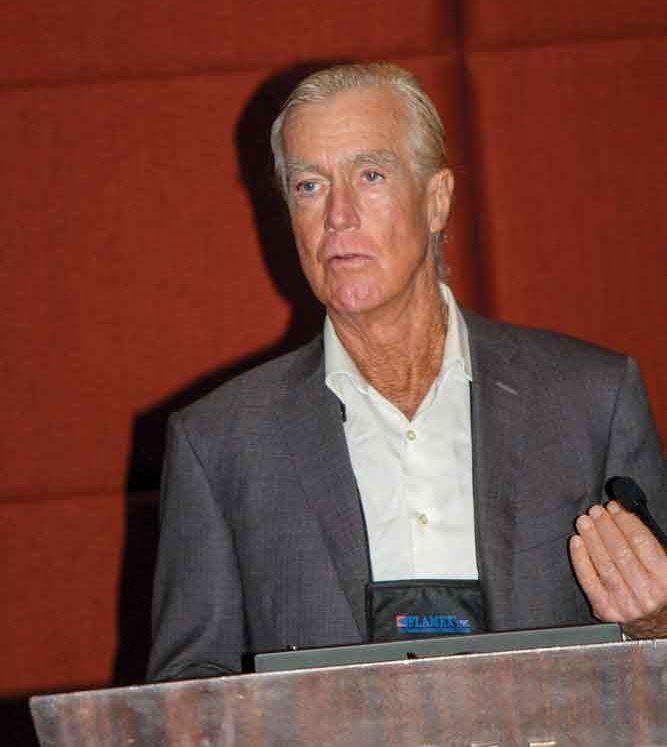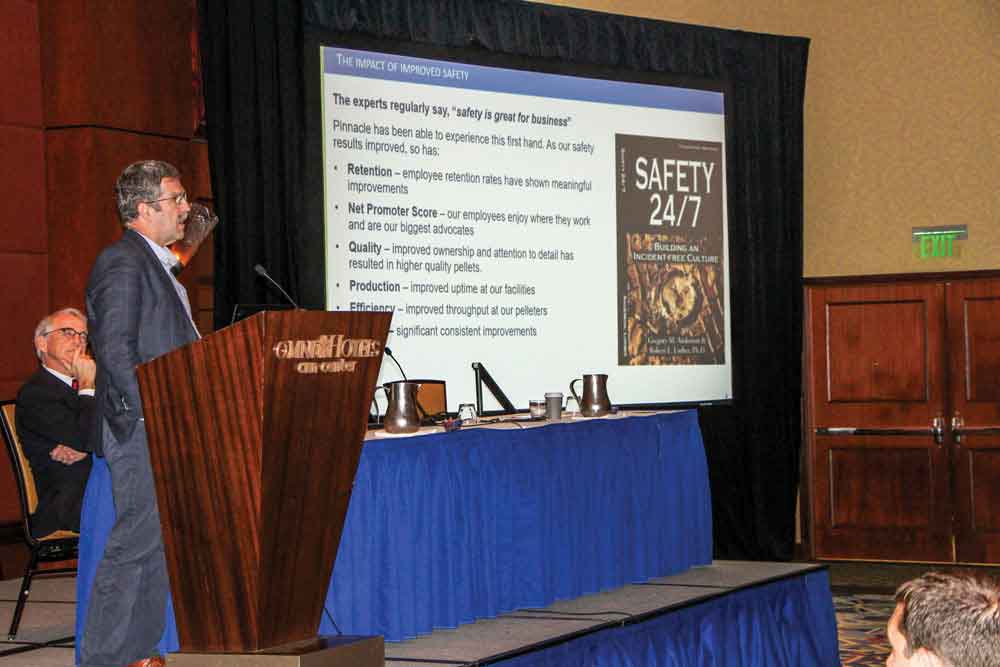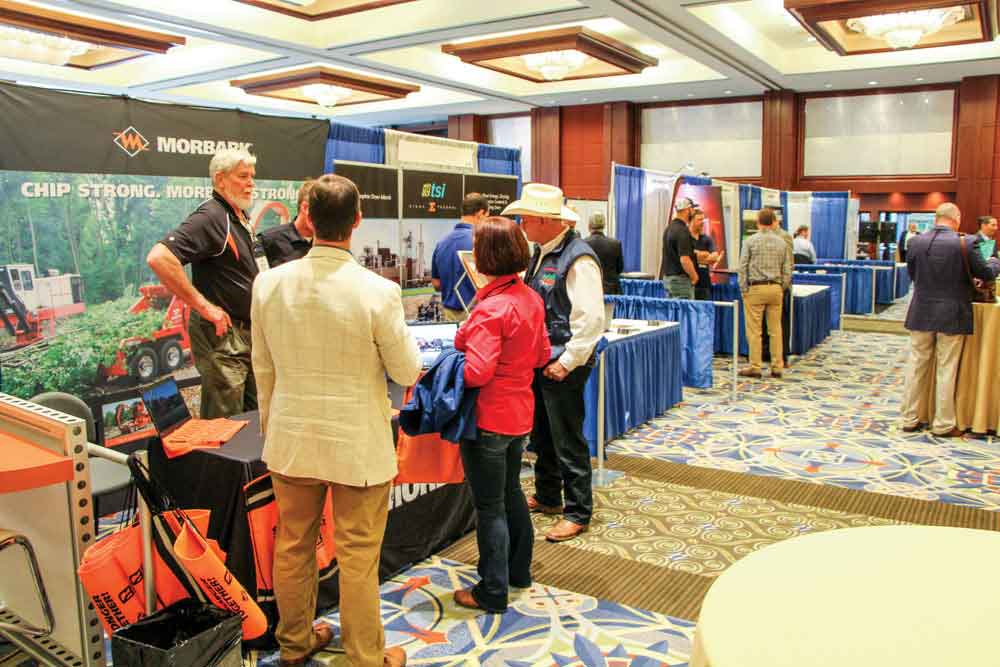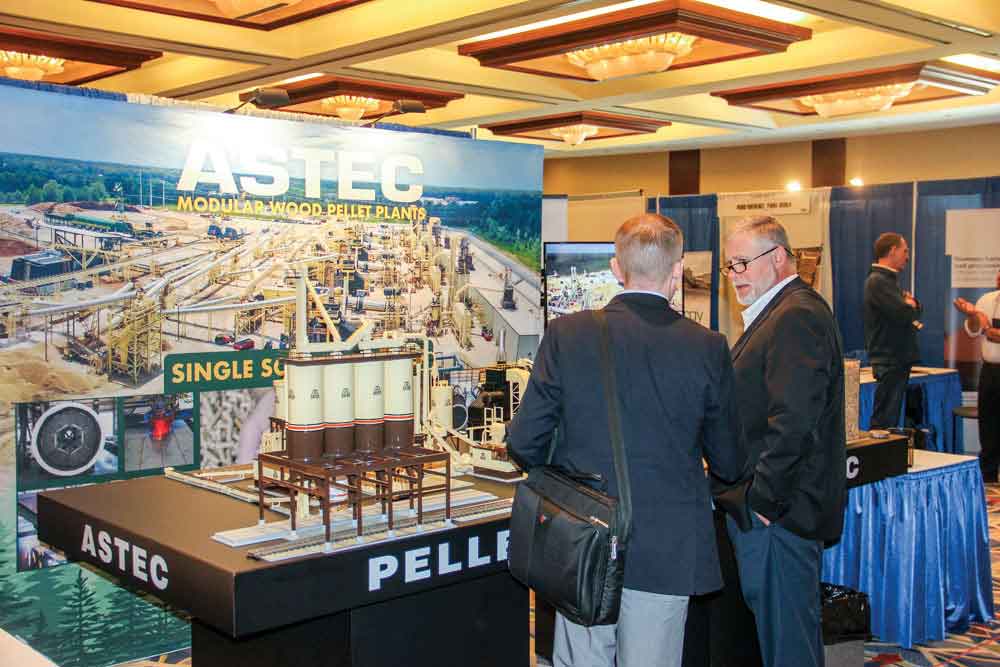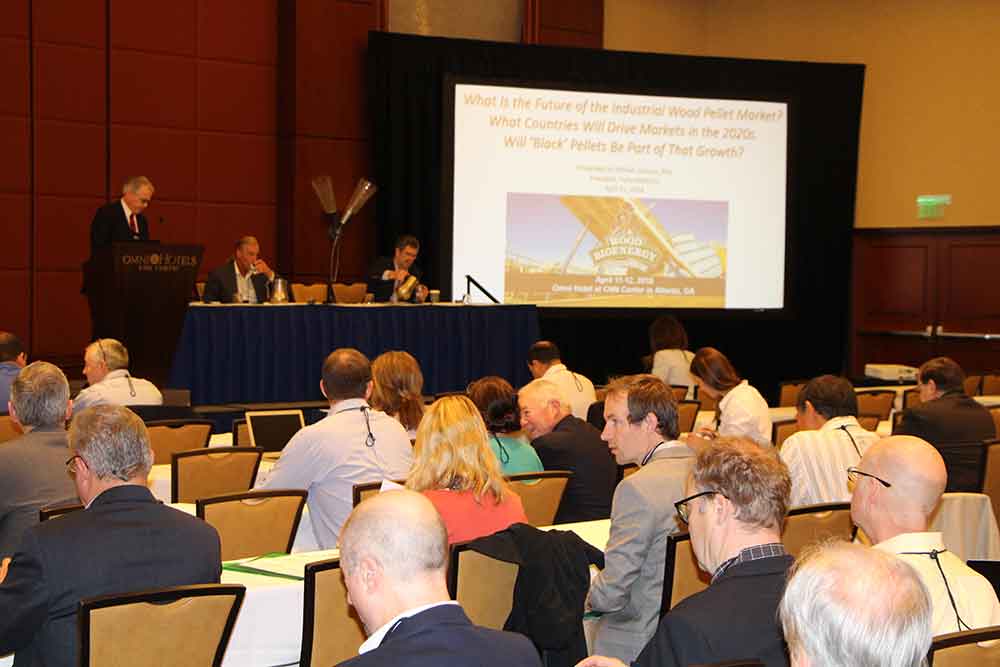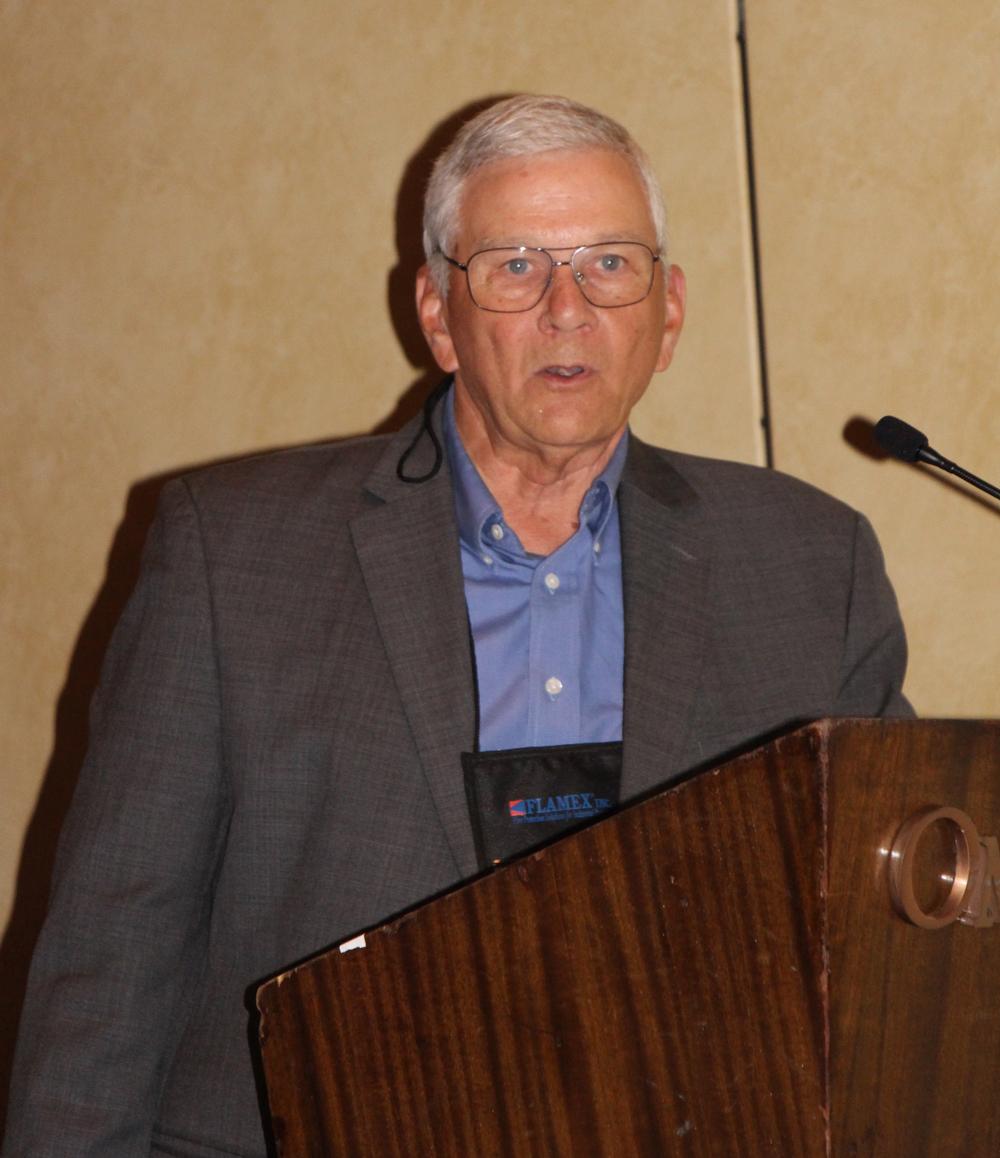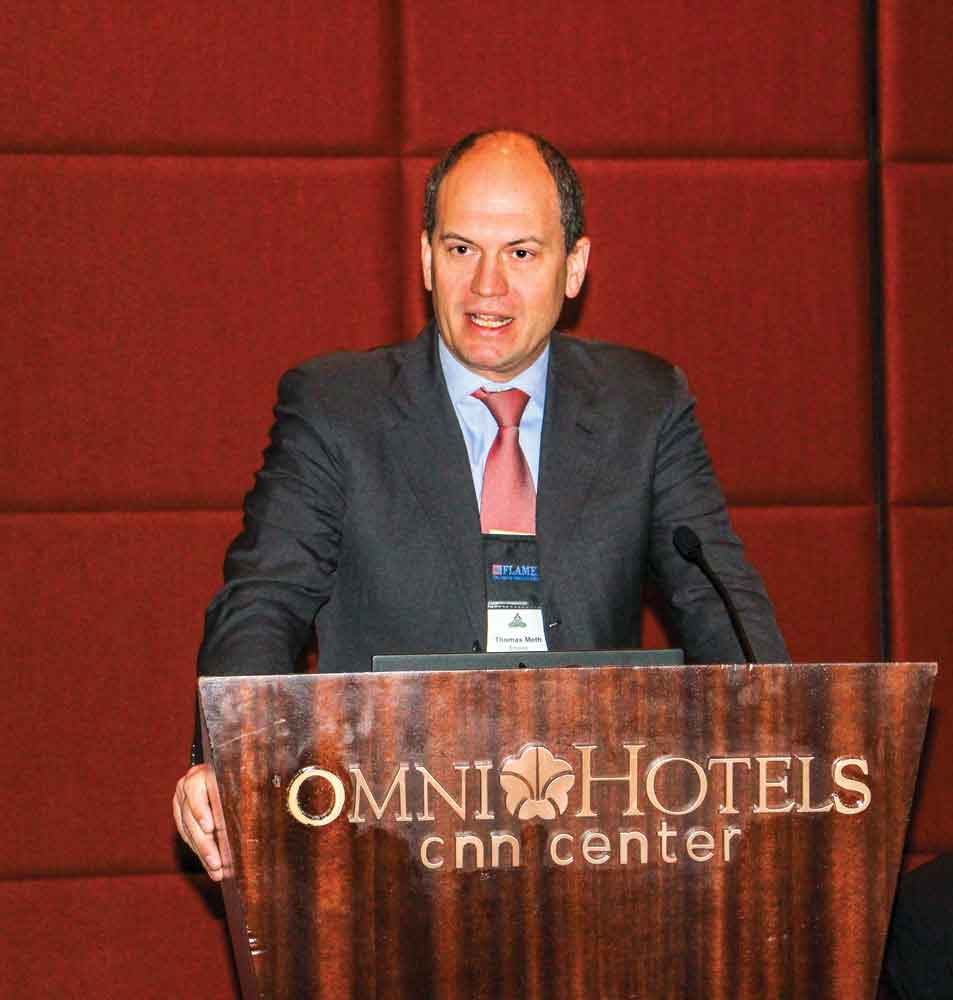 Wood Bio Conference: The Big Dogs Were There
Two-hundred twenty-five industry personnel, including executives from the leading industrial wood pellet producers in the world, along with 60 exhibitor companies participated in the fifth Wood Bioenergy Conference & Expo held April 11-12 at the Omni Hotel at CNN Center in Atlanta, Georgia, USA.
The event was hosted by Wood Bioenergy magazine and Georgia Research Institute.
It included 25 presentations on a range of topics and included speakers from industrial wood pellet producers Enviva, Drax, Pinnacle Renewable Energy, Highland Pellets and Fram Renewable Fuels. All of them painted a picture moving forward of increased worldwide demand for industrial wood pellets.
Endorsing that projection was leading wood energy consultant William Strauss of FutureMetrics, who noted that almost exactly 20 years to the day of the conference, in April 1998, the first oceanic bulk shipment of wood pellets from North America arrived at the port of Helsingborg, Sweden.
Strauss—noting that the two major markets for pellets are industrial pellets as a substitute for coal in large utility power stations, and premium heating pellets used in pellet stoves and central heating systems—said global wood pellet demand in 2017 was nearly 16.9 million metric tons for industrial pellets and 13.9 million metric tons for premium heating pellets.
Those numbers, Strauss said citing various forecasts and analyses, could escalate to 44.8 million metric tons of industrial pellets and 24.4 million of heating pellets by 2025. Most of that new demand is expected to come in Japan and South Korea.
He said the total "new" demand in Europe and England will be 5.85 million tonnes per year, with demand settling at about 19-20 million tonnes per year by 2022. In the UK, the EPH Lynemouth and MGT Teeside biomass power plant projects are either in construction or commissioning. Lynemouth will bring 1.54 million tonnes and MGT Teesside another 1.16 million tonnes. Also, Drax plans to convert its fourth unit from coal to pellets at its Selby power plant, bringing in another 625,000 tonnes of pellets per year. Meanwhile co-firing (coal and wood) projects in the Netherlands will add 2.53 million tonnes, with much of that at the RWE Essent and Uniper projects.
Strauss reported that in 2017 North America supplied 81% of the UK demand, with the U.S. at 62.4% and Canada at 18.4% combining for more than 5.5 million tonnes. U.S. producers exported nearly 5 million tonnes worldwide in 2017.
The growth in industrial wood pellet demand will come from Japan and Korea, Strauss said, adding that the U.S. has not been a significant participant in the NE Asian markets, but that's expected to change. Total potential demand in Japan could exceed 12 million tonnes per year by 2025, while South Korea could demand 9 million tonnes.
He said biomass demand in Japan is driven by a Feed in Tariff support scheme for renewable energy, coal thermal plant efficiency standards and carbon emission targets. There is more uncertainty with regard to South Korea demand, given that the current modus operandi there is short-term supply contracts, whereas producers need long-term agreements to support additional production capacity.
Strauss also addressed the possible influx of black pellets, either steam explosion or torrefied. He cited numerous advantages: pellets don't disintegrate when they get wet; higher volumetric and gravimetric energy density; significantly less dust and fines when handled; lower power requirements for pulverizing SE pellets at a coal power station. He said there is technology that has overcome the technical shortcomings that have prevented the production of cost competitive steam explosion pellets.
Two-hundred twenty-five industry personnel, including executives from the leading industrial wood pellet producers in the world, along with 60 exhibitor companies participated in the fifth Wood Bioenergy...
WEDNESDAY, APRIL 11
MORNING KEYNOTERS SESSION
(Rooms B-C)
8:30-8:35 a.m.
Welcoming Remarks and Keynoters Introduction
—Rich Donnell, Conference Co-Chairman, Editor-in-Chief, Wood Bioenergy
8:40-9:10 a.m.
What Is the Future of the Industrial Wood Pellet Market? What Countries Will Drive Markets in the 2020s and Will 'Black' Pellets Be Part of That Growth?
—Willam Strauss, Founder and President, FutureMetrics
9:15-9:45 a.m.
Recent Developments and Future Outlook for the Global Industrial Wood Pellet Market
—Thomas Meth, Co-Founder, Executive Vice President Sales & Marketing, Enviva
9:50-10:20 a.m.
Pinnacle's Pursuit to Own Safety and Drive Results in the Wood Pellet Industry
—Rob McCurdy, CEO, Pinnacle Renewable Energy
INDUSTRIAL PELLET MANUFACTURING: TEN YEAR REPORT CARD, MOVING FORWARD
PART ONE
(Room B)
11:00-11:25 a.m.
Lessons Learned in Two Major Pellet Plant Startups
—Malcolm Swanson, President, Astec, Inc.
11:30-11:55 a.m.
Greater Emphasis On Safety: New and Existing Plants Are Calling for It
—Bijan Shams, President, Cogent Industrial Technologies
HEAT & ENERGY
(Room C)
11:00-11:20 a.m.
Shipboard Treating of Wood Chips for Export
—Tyler Player, President, Player Design Inc.
11:25-11:45 a.m.
Improving the Operating Efficiencies of Industrial Biomass-Fueled Furnaces and Boilers
—David Digdon, Vice President, Atlantic Combustion Technologies; Michael Reindorp, Consultant
11:50-12:10 p.m.
Energy Efficiency Opportunities: Thermal Oil Versus Steam
—Francisco Ripoll, Export Manager, SUGIMAT
AFTERNOON SUPPLIERS KEYNOTERS SESSION
(Rooms B-C)
1:30-1:35 p.m.
Remarks and Introductions
—Dan Shell, Managing Editor, Wood Bioenergy
1:40-2:10 p.m.
Wood for Energy—A View on How International Requirements and Expectations Affect Forests and Sustainability
—Richard Peberdy, Vice President Sustainability, Drax Biomass
2:15-2:45 p.m.
The Highland Approach to Sustainable, Environmentally Friendly Energy
—Thomas Reilley, Founder and Chairman, Highland Pellets
2:50-3:20 p.m.
Facing the Challenges and Opportunities of the Industrial Wood Pellet Industry
—Andrew Johnson, Vice President, TSI
INDUSTRIAL PELLET MANUFACTURING: TEN YEAR REPORT CARD, MOVING FORWARD
PART TWO
(Room B)
3:50-4:10 p.m.
Fram: Ten Years Running. What We've Learned As We Move Forward
—Harold Arnold, President, Fram Renewable Fuels
4:15-4:35 p.m.
More Consideration for Wood Yards
—Eric Estes, Project Manager, Mid-South Engineering
4:40-5:00 p.m.
Logging & Chipping: Cents to Operate
—Jeremy Sapp, Vice President, Sapp's Land & Excavating
BIO EDUCATION
(Room C)
3:50-4:15 p.m.
Reversing the Trend: Curriculum in Sustainable Biomaterials and Packaging
—Dr. Brian Via, Regions Bank Professor and Director of the Forest Products Development Center, Auburn University
4:20-4:45 p.m.
Forest Products University Graduates: What Does Industry Need?
—Dr. Richard Vlosky, Director, Louisiana Forest Products Development Center
THURSDAY, APRIL 12
MORNING KEYNOTERS SESSION
(Rooms B-C)
8:30-8:35 a.m.
Welcoming Remarks
—Fred Kurpiel, Conference Co-Chairman; President, Georgia Research Institute
8:40-9:10 a.m.
An Update of the Wood-Based Energy Sector in North America
—Dr. Richard Vlosky, Director, Louisiana Forest Products Development Center
9:15-9:45 a.m.
Taking Control of Biomass Supply and Demand
—Clay Crosby, CEO, Twin Rivers Land & Timber
9:50-10:20 a.m.
Refining The Product Line to Meet Emerging Markets
—Jerry Morey, President, Bandit Industries
SOUTHERN U.S. FORESTS & SUSTAINABILITY: THE REAL IMPACT OF THE NEW INDUSTRIAL WOOD PELLET INDUSTRY
(Rooms B-C)
10:50-11:10 a.m.
Innovation in Sustainability: The Enviva Story
—Jennifer Jenkins, Ph.D., Vice President and Chief Sustainability Officer, Enviva
11:15-11:35 a.m.
Effects of Wood Pellet Production on Forest Condition in the Southeastern United States
—Virginia Dale, Adjunct Professor, Department of Ecology and Evolutionary Biology, University of Tennessee, Knoxville
11:40 a.m.-Noon
The Industrial Wood Pellet Industry in the U.S. South: Wood Use and Supply Chain Implications
—Amanda Hamsley Lang, COO & Vice President of Client Services, Forisk
Sign Up To Receive The Latest Updates